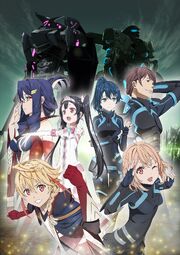 Welcome to the Egao no Daika Wiki
This is a fan-made wiki, so anyone is allowed to contribute to the content.
Production
The Price of Smiles (エガオノダイカ) is a Japanese anime series produced by Tatsunoko Production. The series was created as part of the studio's 55th anniversary celebration.
External links
Egao no daika
at Anime News Network's encyclopedia
Synopsis
A kingdom on a star far away from Earth was overflowing with smiles. The princess of this kingdom is Yuuki and being 12 years of age, it is almost that time where things get confusing. While she spends her time sometimes crying, sometimes laughing, and sometimes feeling lost, she lives happily in the royal palace. The ones coloring her everyday life are the faithful retainers. She has her teacher Leila, the political assistant Izana, the captain of knights Harold, and her childhood friend Joshua.
"Yuuki! If you have spirit and guts, you can do anything!"
"…No, not this again! Joshua, be nobler!"
Stella is 17 years old and an efficient and cool soldier. However, the smile never disappears from her lips. Because if she wants to live, her smile is indispensable. This is one story of two girls born on a planet far away.
Official Twitter
Official Teaser
Key Visual
Latest activity